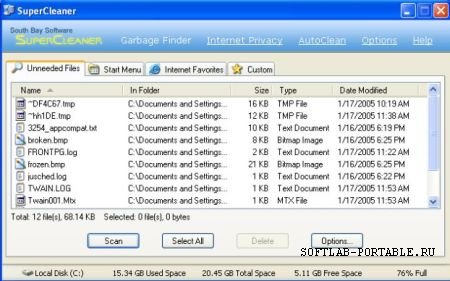 Утилита для очистки жесткого диска от накапливающихся со временем ненужных данных - временных файлов, cookies, файлов Истории, устаревших фаворитов, неправильных ярлыков в меню Пуск и т.п. Поддерживается удаление временных файлов практически у всех браузеров.
SuperCleaner is an all-in-one computer cleaner that finds the files that are eating up your disk space and slowing you down. It can also Clear your Internet History, including your Google search history, Internet Explorer history, Firefox history, and AOL history. It even erases the hidden index.dat files Windows hides on your computer!
SuperCleaner will Delete Cookies that websites leave behind, saving only the ones you specify. You have the option to perform a file wiping when you clear your Internet history, so the files can never be recovered, even with file recovery software! The powerful AutoClean feature lets you automate and schedule your cleanings.
Размер (RAR): 1.21 Мб
Информация для восстановления: 2%
без пароля
Super_Cleaner_2.95_Portable.rar
Download / Скачать Super Cleaner 2.95 Portable